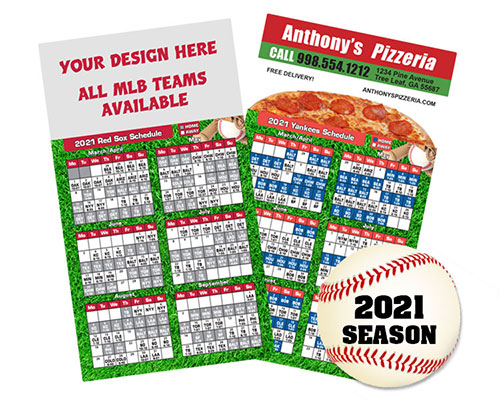 While we can't guarantee a win for your favorite team, we are sure that baseball schedule magnets will be a win for your clients.
Baseball schedule magnets are the promotional item that sticks with fans all season long!

Continental BizMag is pleased to announce that the 2021 baseball schedule magnets are now available.

These are an affordable way for your clients to stay in front of their customers. Simply select your favorite team and customize the top of our 4" x 7" schedule magnet with your 2" x 4" custom design.
We have updated baseball schedules for all 30 MLB teams available including:
Arizona Diamondbacks
Atlanta Braves
Baltimore Orioles
Boston Red Sox
Chicago Cubs
Chicago White Sox
Cincinnati Reds
Cleveland Indians
Colorado Rockies
Detroit Tigers
Houston Astros
Kansas City Royals
Los Angeles Angels
Los Angeles Dodgers
Miami Marlins

Milwaukee Brewers
Minnesota Twins
New York Mets
New York Yankees
Oakland Athletics
Philadelphia Phillies
Pittsburgh Pirates
San Diego Padres
San Francisco Giants
Seattle Mariners
St. Louis Cardinals
Tampa Bay Rays
Texas Rangers
Toronto Blue Jays
Washington Nationals
Our baseball schedule magnets are printed on 23 mil magnetic material and ship out in just 5 business days. Click here to view pricing or learn more about our 2021 MLB schedule magnets.
RESELLER RESOURCES
Click here to download our client-friendly 2021 baseball schedule magnet sell sheet

ABOUT CONTINENTAL BIZMAG
Continental BizMag is a B2B wholesale printing company that has been manufacturing in the United States for over 40 years. We pride ourselves on providing amazing printed products that are backed by excellent service and support.
Our expanded product line now includes plastic cards, badges, photo ID cards, RFID cards, key tags, indoor magnets, vehicle magnets, custom shape magnets, window clings & decals, door hangers, parking passes, luggage tags, calendars, rulers, table signs, stationery, business cards, corrugated signs, and much more.
In addition to printing, Continental BizMag offers cost-effective fulfillment services using both automated and personal touch solutions.
Recent Posts
If you live in a state that has seasons, the start of fall is likely the start of cooler weather, …

Now's the time to order your 2023 calendar magnets and plastic cards! 2021 was a difficult year …

We've been a proud wholesale printing manufacturer for over 45 years. In November 2019, Biz-Mag - …