Spring has arrived! Although if you are based in South Florida like us, seasons just consist of "wet" and "dry" rather than the 4 traditional seasons seen most other places. The start of the MLB season is a sure sign that spring has sprung.
If you are a reseller of wholesale printing, this is a great time to do some Spring cleaning and reach out to past customers to see if they have any pending projects you can assist with.
Out of the 30+ varieties of wholesale printed products offered by Continental BizMag, here are the 5 that are currently trending for Spring 2023:
We've included several client-friendly resources below to assist you in promoting these products to your clients.
With the 2023 baseball season starting last week and running through October 1st, it's no wonder MLB team schedule magnets are in high demand.
MLB baseball team schedule magnets are an effective promotional tool that lasts all season long. These are an affordable way for your clients to stay in front of their customers. Simply select your favorite team (all 30 baseball teams are available) and customize the top of our 4" x 7" schedule magnet template with your 4" x 2" custom design.
DOWNLOAD THE CLIENT-FRIENDLY SELL SHEET FOR 2023 MLB TEAM SCHEDULE MAGNETS
When it comes to promotional items, business card magnets have been our #1 seller for over 20 years. This is partly because Continental BizMag is a low price leader when it comes to magnetic business cards.
Their incredibly low price makes business card magnets a powerful marketing tool that works well to promote any business you could imagine. They stick to refrigerators and other indoor metal surfaces including file cabinets. Some of the most popular uses include:
Important Phone Numbers
Magnetic Business Cards
Important Dates
Mini Magnetic Billboards
Social Media Campaigns
QR Code Linking to a Website or Menu
DOWNLOAD THE RETAIL SELL SHEET FOR BUSINESS CARD MAGNETS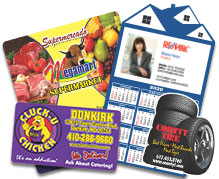 When business card magnets aren't quite large enough to get the message across, custom fridge magnets can get the job done.
Custom fridge magnets are a popular marketing tool that can be used to display useful information, save the dates, and promotional messaging. Think of them as a mini magazine ad or postcard that sticks to any indoor magnetic surface.
Looking for something that really stands out? Create virtually any shape you desire with custom shaped fridge magnets. All fridge magnets are finished with an ultra high gloss coating. They can be printed with full color and are available in 10 standard sizes:
2" x 4" Rectangle
3" Circle
3" x 3.5" Oval
4" Circle
4" x 3.5" Rectangle
3.5" x 6" Rectangle
4" x 5" Oval
4" x 7" Rectangle
5" x 8" Rectangle
5.5" Circle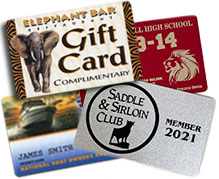 Just about everyone has at least one plastic card in their wallet. Most people have a few too many! You may not realize how many uses there are for this amazing marketing tool and how cost effective it is to create custom plastic cards of your own.
Whether you are looking for spot color plastic cards, full color plastic cards, or RFID embedded cards, we can offer a solution to fit your needs. There are many optional upgrades available including magnetic stripes, barcoding, QR codes, name or number personalization, and embossing.
Some of the most popular uses for custom plastic cards include:
Gift Cards
Photo ID Cards
Membership Cards
Security Access Passes
VIP Cards
Hotel Key Cards
Discount Cards
Fundraiser Cards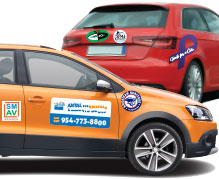 Vehicle magnets can mean different things to different people. There are 2 main styles of magnets that are currently trending. More often referred to as truck magnets, these large door magnets are used as a billboard on-the-go to promote a company, brand a fleet, or advertise an entrepreneur's services. Rectangle door magnets are sold in pairs and available in 3 standard sizes:
11" x 24"
16" x 23"
21" x 23"
Car magnets are smaller magnets that are typically used to show support for a particular cause, team, or company. Circle car magnets have been the most popular seller by far, with support ribbons a close second. They make a great fundraiser or giveaway item and are available in 5 standard shapes, each in both a small and large size:
3" x 5" Oval
4" x 6" Oval
4" Circle or Square
5" Circle or Square
2.25" x 6.25" Rectangle
3" x 9" Rectangle
5.25" Support Ribbon
7.5" Support Ribbon
DOWNLOAD THE CLIENT-FRIENDLY VEHICLE MAGNET SELL SHEET
Looking for something outside the box? Check out custom shape vehicle magnets which allow you to create virtually any shape without the need for a die.

About Continental BizMag
Continental BizMag is a wholesale printing company that offers incredibly low pricing to resellers on over 30 products including a wide range of custom printed plastic products, fridge magnets, vehicle magnets, decals, and yard signs. Our products are proudly Made in the USA from our 45,000 sq. ft. factory in Pompano Beach, FL.
Click here to fill out our reseller application and instantly unlock wholesale pricing. All approved resellers will receive our free sample kit and 36-page product catalog.



Follow Continental BizMag on Facebook to stay connected with the newest reseller resources, wholesale printing discounts, and industry news.
Recent Posts
Now's the time to order your 2024 calendar magnets and plastic cards! Custom printed calendar m …

Business card magnets are an excellent marketing tool that provides businesses with a cost-effect …

Spring has arrived! Although if you are based in South Florida like us, seasons just consist of " …