It's official! Summer has arrived. If you are based in South Florida like Continental BizMag, it has already felt like summer for months!
The start of a new season is a great time for wholesale printing resellers to reach out to past customers to see if they have any reorders or upcoming projects you can assist with.
Here are some of the top products we are seeing so far for summer 2021. Feel free to use the client-friendly resources below to assist you in promoting these products to your clients.
Out of the 30+ varieties of wholesale printed products offered by Continental BizMag, here are the 5 that are currently trending as of June 2021: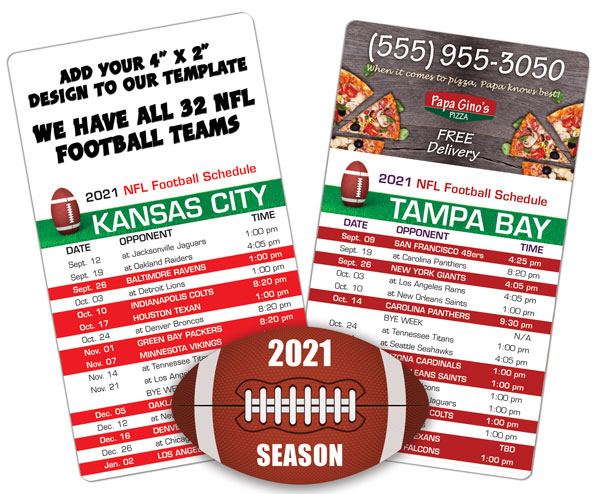 Football schedule magnets are a powerful promotional tool that lasts all season long. They are an affordable way for your clients to stay in front of their customers. Football schedule fridge magnets can be used to promote any type of business but they are particularly popular with restaurants - especially those that sell the types of food fans may order while watching a game.
We offer all 32 NFL teams so you can simply select the team of your choice and customize the top of our 4" x 7" schedule magnet template with your 4" x 2" custom design.
The 2021 NFL regular season will run September - January which makes summer the best time to start selling this seasonal item.


DOWNLOAD THE CLIENT-FRIENDLY SELL SHEET FOR 2021 NFL FOOTBALL MAGNETS
Continental BizMag is a low price leader when it comes to wholesale printing on magnetic business cards, which is why business card magnets have been our #1 seller for over 20 years.
Their incredibly low price makes business card magnets a powerful marketing tool that works well to promote any business you could imagine. Business card magnets can be placed on refrigerators and other indoor metal surfaces including file cabinets. Some of the most popular uses include:
Important Phone Numbers
Magnetic Business Cards
Important Dates
Mini Magnetic Billboards
Social Media Campaigns
QR Code Linking to a Website or Menu
DOWNLOAD THE RETAIL SELL SHEET FOR BUSINESS CARD MAGNETS
3.
Circle Magnets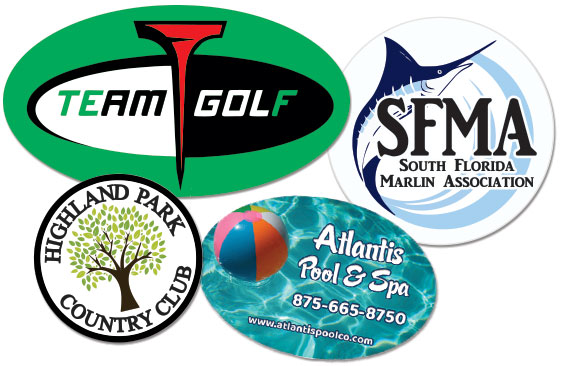 While circle magnets have been around for a long time, they've just recently started to gain in popularity. Circle magnets are available as indoor refrigerator magnets but it is definitely their outdoor counterpart - circle car magnets - that has put this shape on the map.
It's hard to drive anywhere these days without seeing circle car magnets on the road. They make an easy fundraiser, an inexpensive branding tool, and the type of product that people are proud to display on their cars to support their favorite company, team, or cause.
Circle car magnets are available in 2 standard sizes: 4" and 5". While those are the most popular sizes, they can be produced in virtually any size. Car magnets are printed on thick magnetic material and finished with a weatherproof UV coating that resists fading.
Round fridge magnets are a great solution if you are looking for something "outside the box" of the typical rectangle magnet. Custom fridge magnets are a popular marketing tool that can be used to display useful information, save the dates, and promotional messaging. Think of them as a mini magazine ad or postcard that sticks to any indoor magnetic surface.
Refrigerator magnets are printed on a thin magnetic material designed for indoor use. They can be printed with full color and are available in 5 standard round sizes:
3" Circle
3" x 3.5" Oval
4" Circle
4" x 5" Oval
5.5" Circle
4.
Custom Shaped Magnets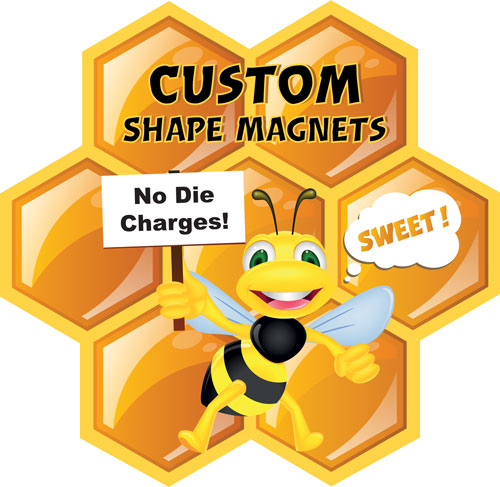 Looking for something that really stands out? Custom shaped magnets allow you to create virtually any shape you desire without the need for expensive dies. Our manufacturing process also allows us to keep both minimum quantities and wholesale printing prices extremely low.
Pricing on custom shaped magnets is calculated in square inches. For example, if your magnet will measure 5" wide x 3" high, you simply multiply 5" x 3" = 15 square inches. Then select pricing for 15 square inches in the quantity of your choice.
Custom shape vehicle magnets can be created in the shape of a football, helmet, logo, or just about any shape you can imagine. Small vehicle magnets can be used as a fundraiser or promotional item while larger vehicle magnets can be used to brand fleet doors. The minimum quantity on custom shape vehicle magnets is only 50.
Custom shaped refrigerator magnets make a great promotional tool. They can be used for small magnets, custom shaped calendar magnets, or even custom photo frames with a removable center. The minimum quantity on custom shaped fridge magnets is 250.
DOWNLOAD THE RETAIL SELL SHEET FOR INDOOR CUSTOM SHAPE FRIDGE MAGNETS
DOWNLOAD THE RETAIL SELL SHEET FOR CUSTOM SHAPED VEHICLE MAGNETS
5.
Discount / Fundraising Plastic Cards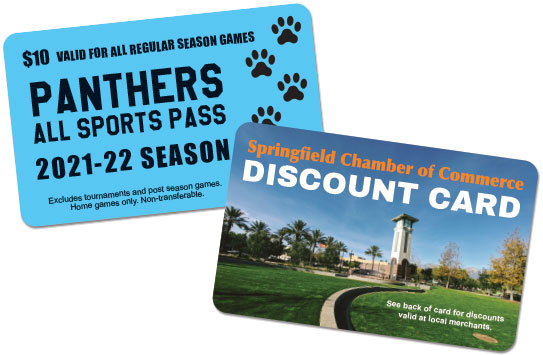 Discount & Fundraising cards are always a popular summer item and this year is no exception. Here are a few trending uses:
- Plastic cards for high school football teams that are selling season passes as a school fundraiser
- A memorable coupon insert that gets included with eCommerce orders as they get shipped out to customers
- Fundraiser cards that are sold for $10-20 each that give the recipient discounts to select local businesses when they present their card.
Other uses for custom plastic cards include gift cards, membership cards, ID cards, VIP cards, and more.
Whether you are looking for spot color plastic cards or full color plastic cards, we can offer an affordable solution to fit your needs. There are many optional upgrades available including magnetic stripes, barcoding, QR codes, name or number personalization, and embossing.
DOWNLOAD THE RETAIL SELL SHEET FOR FULL COLOR PLASTIC CARDS
DOWNLOAD THE RETAIL SELL SHEET FOR SPOT COLOR PLASTIC CARDS

About Continental BizMag
Continental BizMag is a wholesale printing company that offers incredibly low pricing to resellers on over 30 products including a wide range of custom printed plastic products, fridge magnets, vehicle magnets, decals, and yard signs. Our products are proudly Made in the USA from our 45,000 sq. ft. factory in Pompano Beach, FL.
Click here to fill out our reseller application and instantly unlock wholesale pricing. All approved resellers will receive our free sample kit and 32-page product catalog.



Follow Continental BizMag on Facebook to stay connected with the newest reseller resources, wholesale printing discounts, and industry news.
Recent Posts
Now's the time to order your 2024 calendar magnets and plastic cards! Custom printed calendar m …

Business card magnets are an excellent marketing tool that provides businesses with a cost-effect …

Spring has arrived! Although if you are based in South Florida like us, seasons just consist of " …