We've been a proud wholesale printing manufacturer for over 45 years. In November 2019, Biz-Mag - a leading manufacturer of printed indoor and car magnets - was acquired by Continental Plastic Card and the wholesale printing company Continental BizMag was born.
Biz-Mag had been producing high-quality wholesale magnets for nearly 40 years. (It had formerly acquired Plasti-Card, The Magnet Factory, and Plastic Depot.) The merger made Continental BizMag one of the largest manufacturers of magnets and plastic cards in the United States.
In all of our years in business, we have never run out of magnetic material to produce our magnets. We've also earned a very good reputation for offering incredibly low prices and super fast turnaround.
Unfortunately, during the 3rd quarter of 2021, the magnet industry (and several other industries) experienced a global breakdown of the supply chain. This affected every manufacturer of wholesale printing including Continental BizMag, Stouse, and other industry leaders.
Some of our printed products - like business card magnets - are popular year round while others, like our calendar magnets are extremely seasonal. The lack of raw materials could not have come at a worse time since August / September is typically the start of calendar magnet season.
We are happy to announce that after months of delays, magnets are back in stock! As we catch up on backorders, production times are delayed slightly on magnets to 5 - 7 business days but we will be back to standard turnaround times before the end of January 2022.
Continental BizMag prides itself on being a low price leader and has kept pricing relatively the same for the last 10 years. Throughout 2021, we received constant price increases on our raw materials until we could no longer absorb these additional costs. We've been forced to increase our pricing to reflect this and have done our best to keep our prices as low as possible.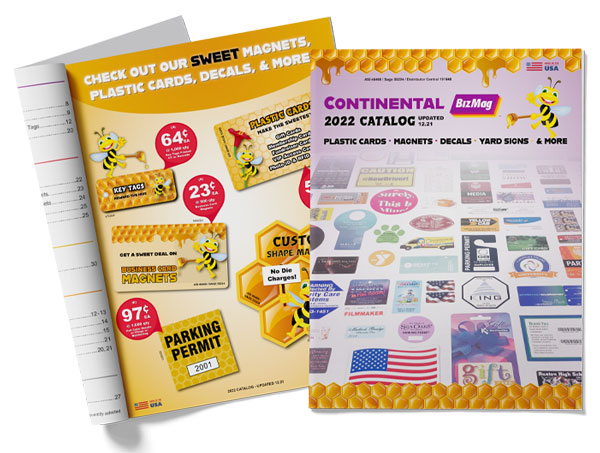 This year, our complete 36-page catalog with retail pricing is only available digitally. Click here to view our 2022 Retail Catalog with updated pricing.
We have also created an abridged tri-fold marketing brochure without pricing which can serve as a counter display tool. This printed marketing brochure contains links to our digital catalog that can be accessed easily via QR codes.
All past clients can expect to receive a copy of the tri-fold brochure in February. New print resellers can request a printed copy by Request a Printed Brochure.
Thanks so much to all of our wholesale printing resellers for your continued support during these unprecedented times.
Our goal has always been - and remains - to help make you more successful while adding more honey to your bottom line. Looking forward to a sweeter year ahead!

About Continental BizMag
Continental BizMag is a wholesale printing company that offers incredibly low pricing to resellers on over 30 products including a wide range of custom printed plastic products, fridge magnets, vehicle magnets, decals, and yard signs. Our products are proudly Made in the USA from our 45,000 sq. ft. factory in Pompano Beach, FL.
Click here to fill out our reseller application and instantly unlock wholesale pricing.



Follow Continental BizMag on Facebook to stay connected with the newest reseller resources, wholesale printing discounts, and industry news.
Recent Posts
Now's the time to order your 2024 calendar magnets and plastic cards! Custom printed calendar m …

Business card magnets are an excellent marketing tool that provides businesses with a cost-effect …

Spring has arrived! Although if you are based in South Florida like us, seasons just consist of " …