Custom magnets

make a fantastic promotional item, fundraiser, and marketing tool for a wide range of companies.

As a reseller, buying direct from the manufacturer allows you to maximize your profits - especially if you are buying from a wholesale printing company.
It is important to know about the different types of magnets available, and the pros and cons of each so you can speak intelligently about them to your clients.
While business card magnets are king when it comes to custom magnets, there are many other options available.
Indoor vs Outdoor Magnets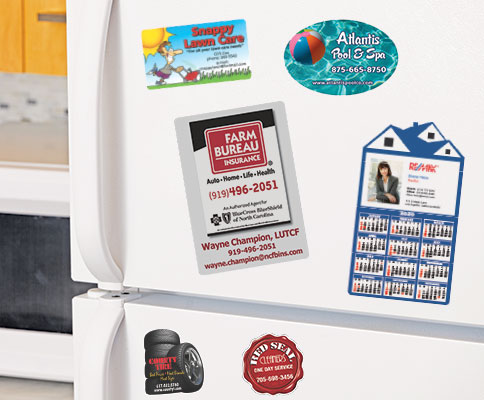 There are many different options available to you. When pricing out magnets, the first decision to make is its intended use. Will it be used indoors or outdoors?
Indoor magnets are less expensive and printed on a thinner magnetic material. They can be used on refrigerators, file cabinets, and any other indoor magnetic metal surface.
There are 2 main advantages to the thinner magnetic material used on indoor magnets.
Thinner magnets offer a tremendous cost savings since magnetic material is so expensive when compared to printed paper products.

The thinner material weighs less which means it costs less to ship the magnets to your customers and if they decide to send individual magnets as part of a direct mail campaign to their clients, they will save on postage.
Outdoor magnets are most popular as truck and car magnets. They are often generalized as vehicle magnets but can be used on any outdoor magnetic metal surface.
Car magnets are printed on a thicker magnetic material which gives them a more robust feel and helps them hold on tight while on the move. Most importantly, they feature a clear protective overlay which makes them weatherproof and helps to protect against fading. Depending on the conditions, they typically last for a minimum of 2 - 3 years when used outdoors.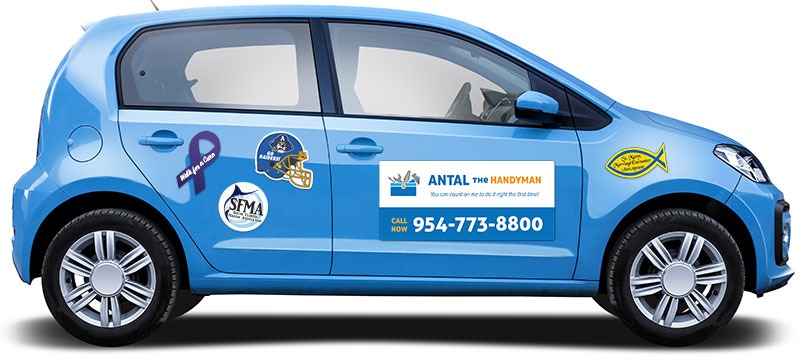 Vehicles have changed a lot over the years. Today's cars are built with less metal which means fewer areas of cars and trucks are magnetic. Car doors and near the license plate are typically the most common areas car magnets are placed but this can vary depending on the make and model of your car.
Magnets WILL STICK to
Magnets WILL NOT STICK to
Some stainless steel (Depends on how it was made. Some stainless steel is magnetic.)

Aluminum

Carbon Fiber

Fiberglass
Standard vs Custom Shape Magnets
In the past, custom magnets were available in a variety of standard sizes - most of them rectangles or circles. If a custom shape was needed, a custom metal die would have to be made which was very expensive. It also meant that a large quantity of magnets would have to be purchased.
Nowadays, custom shape magnets can be created without the need for a die to be made. In addition, low minimum quantities are available which makes both custom shaped fridge magnets and custom shape car magnets an affordable option for everyone.
Indoor Refrigerator Magnets
There are many options available on custom refrigerator or "fridge" magnets. It's important to keep in mind that these magnets work on any indoor magnetic metal surface - including file cabinets.
Business card magnets are by far the most popular option due to their cheap price and fast turnaround (as quick as 48 hours) but there are many additional shapes and sizes of custom magnets available.
Magnetic business cards are the best value for your money and one of the most popular promotional items on the market.
Custom calendar magnets can be used for annual calendars, team schedules, school calendars, and more. Annual calendars are typically ordered between October - January while other types of calendars and schedules are ordered year round.
Custom Shape Refrigerator Magnets
Create your own custom shape without the need for a die. This option is priced according to the number of square inches used. For best results, create a design with smooth lines that is not overly intricate.
Rectangle Refrigerator Magnets
Next to business card magnets, these are the most popular types of refrigerator magnets. Available in 5 standard sizes ranging from 2" x 4" to 5" x 8", custom rectangle magnets make a great mini billboard and promotional item.
Looking for something unique while still conforming to a standard size? Circle and oval magnets are a great choice and available in 5 standard sizes ranging from 3" to 5.5".
Sports schedule magnets allow your customers to add their business card design to the top of an existing team schedule, giving them exposure all season long. All 32 NFL teams and 30 MLB team schedules are available.
This low-priced magnet option allows you to choose from 26 existing shape templates and customize with your own design such as a house, truck, or tooth.
Car Magnets
Magnetic car signs allow businesses to add a removable mobile billboard to their cars, trucks, and vehicles. These weatherproof custom magnets resist fading and can be used to promote a company, service, team, or cause.
These large, rectangles are what typically comes to mind for car magnets. Available in 3 standard sizes and sold in pairs, these magnetic car door signs are an old standby.
These smaller car magnets have become very popular in recent years, particularly the circle and ribbon vehicle magnets. Available in 5 standard shapes in both small and large size, they make an excellent branding or fundraising magnet.
Create your own custom shape car magnet without the need for a die. This option is priced according to the number of square inches used and has a low minimum quantity. Makes a great fundraiser or promotional magnet.

ABOUT CONTINENTAL BIZMAG
Continental BizMag is a wholesale printing company that has been manufacturing in the United States for over 40 years. We pride ourselves on providing amazing printed products that are backed by excellent service and support.
Our expanded product line now includes plastic cards, badges, photo ID cards, RFID cards, key tags, indoor magnets, vehicle magnets, custom shape magnets, window clings & decals, door hangers, parking passes, luggage tags, calendars, rulers, table signs, stationery, business cards, corrugated signs, and much more.
In addition to printing, Continental BizMag offers cost-effective fulfillment services using both automated and personal touch solutions.
Recent Posts
Now's the time to order your 2024 calendar magnets and plastic cards! Custom printed calendar m …

Business card magnets are an excellent marketing tool that provides businesses with a cost-effect …

Spring has arrived! Although if you are based in South Florida like us, seasons just consist of " …