Graphic designers, ad agencies, marketing firms, print brokers, copy shops, franchises, mom & pops, and those in the promotional or advertising speciality industry in need of a high quality trade printer.
Trade printers are companies that offer B2B wholesale printing services to resellers rather than selling directly to the customer. The benefits of working with a trade printer for your wholesale printing needs.
While many retail printing companies will offer discounts to resellers, wholesale printing companies only focus on resellers. There are many benefits here.
Trade printers typically offer lower prices since the work exclusively with resellers


Trade printers often provide free sales tools such as client-friendly graphics and retail sales tools that can be used as marketing tools to generate more orders.


For graphic designers, marketers, and ad agencies that don't manufacture printed products in-house, working with a wholesale printing company provides a new source of revenue that they wouldn't normally have. It also provides additional value to their clients by providing a one-stop solution for both design and printing.



For print brokers, copy shops, printing franchises, and retail printing companies that manufacture some products in-house, working with a trade printer allows them to add more products to their line up without any additional cost. They can reach out to their existing customer base and offer new products which provides a service to their clients while creating additional profits for their business.
If you sell design or print services, why not add more to your bottom line by outsourcing select products including custom printed

plastic cards

,

key tags

,

refrigerator magnets

,

vehicle magnets

,

decals

, and more to a wholesale printing company?
When selecting a company to work for, here are some great attributes to look for:
Working with a company that prints their products in the USA will save a lot of headaches and aggravation. It also ensures faster delivery times and lower shipping costs.


Find a wholesaler that provides more than 1 - 2 products. This will make them a more valuable resource.



Online ordering with instant pricing

makes everything more convenient. It's always best to work with vendors that make the ordering process as painless as possible.


Automation is important but it's even more important to have the ability to speak to someone when you have a question or need help. Customer service and support are crucial. When you are outsourcing print services to an online printing company, you want to work with a company that you can call and speak to a live American customer service rep.

In today's world, people are working from their offices, homes, and mobile devices - whatever it takes to get the job done.
Whether you are more comfortable ordering online, or would prefer to speak to someone on the phone or via online chat, Continental BizMag has you covered. Offering over 30 products that are manufactured in the USA, we are proud to be of service to graphic designers, ad agencies, marketing firms, print brokers, copy shops, franchises, and those in the promotional or advertising speciality industry in need of a high quality trade printer.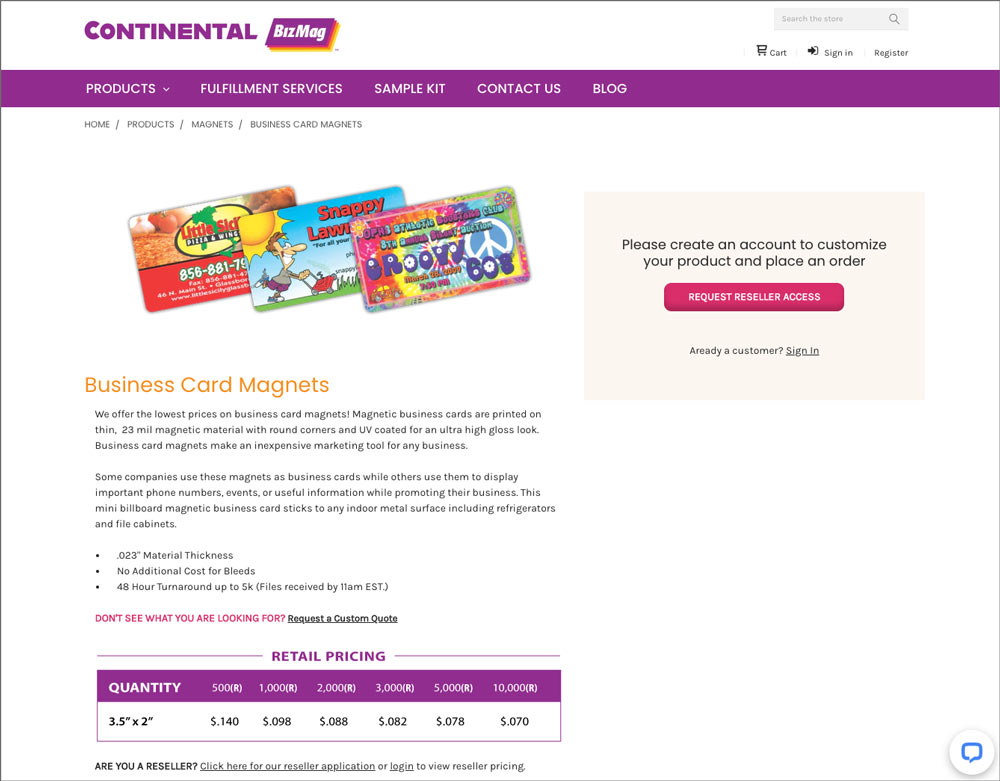 Continental BizMag makes things easy by offering an eCommerce website and 32-page catalog - both with retail pricing which make them an excellent sales tool that could even be used at your sales counter. Once you become an approved reseller and login, this will unlock your discounted wholesale pricing and allow you to place orders online.
Step 1 - Fill out our reseller application. It takes less than 5 minutes and you'll instantly unlock wholesale pricing.
Step 2 - Take a look at our product line which includes a wide range of custom printed plastic cards, magnets, decals, signs, and plastic products. Select the product you are interested in and login to get access to our instant price calculator. Simply select your quantity and specifications to see instant pricing. You can upload your artwork before placing your order or email it after the fact.
Step 3 - Select to have your printed products shipped to you or blind ship them directly to your client. Our website allows you the ability to save multiple shipping addresses to make future ordering even easier. You can also easily track pending orders and view your order history.
Step 4 - As soon as your order ships, you'll receive an email with the tracking details. You can also login at any time to view the status of your pending orders.

About Continental BizMag
Continental BizMag is a wholesale printing company that offers incredibly low pricing to resellers on over 30 products including:
- Magnets
- Signs
- Key Tags
Our products are proudly Made in the USA from our 45,000 sq. ft factory in Pompano Beach, FL.
Click here to fill out our reseller application and instantly unlock wholesale pricing. All approved resellers will receive our free sample kit and 32-page product catalog.



Follow Continental BizMag on Facebook to stay connected with the newest reseller resources, wholesale printing discounts, and industry news.
Recent Posts
Now's the time to order your 2024 calendar magnets and plastic cards! Custom printed calendar m …

Business card magnets are an excellent marketing tool that provides businesses with a cost-effect …

Spring has arrived! Although if you are based in South Florida like us, seasons just consist of " …